How to find us
The School of Physics and Astronomy
The School is situated on the Main Edgbaston campus. The Physics buildings are numbered 34a, 34b and 35 on the main campus map.
Click here to go to the main University maps page.
The Condensed Matter Physics Group
The group is located on the second floor of the Physics East building. This is numbered building 35 on the Main Edgabaston Campus map. A more detailed map of the physics buildings is shown below.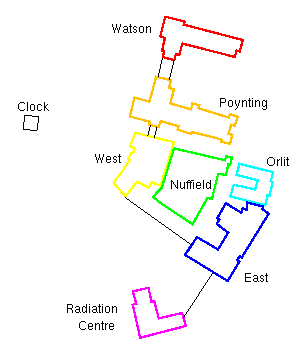 A map of the various Physics buildings on campus
A view of the Physics East building; the Condensed Matter group are located on the Second floor